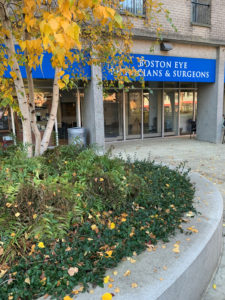 Back in 1968, three famous Boston ophthalmologists founded The Ophthalmic Associates: Abraham Pollen, M.D., George Garcia, M.D. and Baruch Sachs, M.D. In 1974, they recruited Richard Floyd, M.D. right out of his residency at the Mass Eye and Ear Infirmary (MEEI). In 1984, Anthony Fraioli, M.D. was recruited to the group after he completed his chief resident duties and pediatric ophthalmic fellowship at the MEEI. Dr. Ernest Kornmehl joined the practice in 1990 following his MEEI corneal fellowship. Finally, Dr. Kevin Kaufman was recruited as the newest partner in 2003, bringing to the group his glaucoma subspecialty expertise.
With all these new names on board, the partner surgeons changed the name of the practice to Boston Eye Physicians and Surgeons, P.C. The practice assumed a larger patient base from retiring ophthalmologists in the Kenmore Square area: Doctors Donald Weis, Earl Seale, and Irving Pavlo.
Kenmore Square used to be the citadel for famous and busy ophthalmologists in the city of Boston. Boston Eye Physician and Surgeons was at the center of that activity. By 1998 Boston University had become the primary real estate holder in Kenmore Square and BEPS decided to move to its present new and more convenient quarters in Brookline Village. BEPS built out a whole new office suite. Parking became more accessible and congestion from Fenway Park became a thing of the past. BEPS also broadened its hospital affiliation. In the beginning, our surgeons worked exclusively at the Mass Eye and Ear Infirmary. But now we have built additional alliances with The Beth Israel-Deaconess Medical Center, St. Elizabeth's Hospital, and Tufts New England Eye Center.'
The physicians of BEPS have always been the leaders and teachers of Boston Ophthalmology. Our members hold faculty appointments at Harvard Medical School and have been local and national leaders of State and National Ophthalmic Societies. The founding Doctors Pollen and Sachs who are deceased and Dr. Garcia who is retired would be proud of their creation which they started four decades ago.
Our Technology