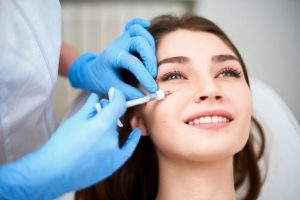 Many people don't realize that ophthalmologists have used the most popular type of dermal filler (hyaluronic acid) for decades for eye surgeries, corneal transplants and eye injuries. The eye doctors of Boston Eye Physicians and Surgeons have intricate knowledge of this substance and are the perfect medical professionals to inject your dermal filler. We offer various dermal fillers to reduce signs of aging, restore age-related volume loss or address other aesthetic concerns.
What is Hyaluronic Acid?
This compound is naturally found in your body, particularly your eyes and joints. Hyaluronic acid works as a lubricant and cushion in the joints and other connective tissues. It has long been used to replace the natural fluids in the eye, and the clear, gooey texture of hyaluronic acid dermal fillers got its start as an intraocular viscoelastic substance used by most ophthalmologists. It is FDA-approved for eye procedures such as retinal detachment repair, cataract removal, corneal transplants and eye injuries.
The hyaluronic acid found in your skin tissues helps hold moisture for youthful, supple skin, but your body produces less of the substance as you get older, leading to thinning skin and worsening lines and wrinkles.
Why Choose an Ophthalmologist for Your Dermal Fillers?
When hyaluronic acid is injected into the eye or the facial tissues for anti-aging benefits, it requires a great deal of caution, experience, education and skill. An ophthalmologist and oculoplastic surgeon understands the eye anatomy and facial structure more than the average nurse injector offering dermal fillers. Your dermal filler results directly rely on the skill level of the medical professional in charge of your treatment, so it's crucial to choose a physician who understands skin structure and anatomy.
What Skin Concerns Can Dermal Fillers Treat?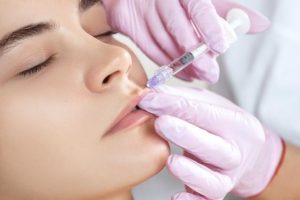 Hyaluronic acid fillers such as Juvéderm and Restylane are just one kind of dermal filler. Some injectables use collagen, calcium hydroxylapatite (Radiesse), poly-L-lactic acid (Sculptra) and other compounds. Fillers offer facial rejuvenation benefits for up to a year or even longer, and you can continue to enjoy your results with maintenance treatments. Each filler type is designed to address specific lines and wrinkles and other facial concerns, such as:
Aging Eyelids: Natural aging causes your skin to lose elasticity, and your eyelids may be the first area to show this due to the thin skin on the upper and lower eyelids. Fat may sink lower, causing puffy under-eye bags and hollowing. Dermal fillers can improve these concerns as well as tear troughs where the under-eye and cheek areas meet.
Volume Loss in the Mid-Face: Loss of collagen, elasticity and fat displacement can make your cheeks lose volume and accentuate lines and wrinkles around the mouth. Dermal fillers restore fullness in the mid-face by adding volume to these areas, softening wrinkles and providing a more youthful facial contour.
Thinning Lips: Your lips are likely to lose volume as you age, or you may have thin lips to start. Vertical lip lines may creep in as well, but dermal fillers such as Restylane Kysse are made explicitly for lip enhancement for long-term, luscious lips.
Nasolabial Area and Jawline: Thinning skin and volume loss can make the area around your nose show deepening nasolabial folds that stretch from your nose to your mouth. Fat distribution and volume loss can make the jawline less defined with age (jowling), but dermal fillers can combat both of these concerns to smoothen wrinkles and contour the jawline.
If you're interested in dermal fillers to rejuvenate your appearance, contact Boston Eye Physicians and Surgeons to schedule a consultation today.