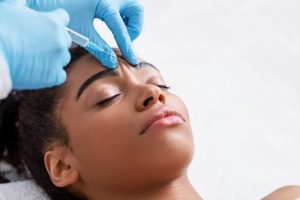 Botox is often touted for its ability to smoothen dynamic wrinkles in the forehead, between the brows and around the eyes. What you may not know is that Botox was first developed by an ophthalmologist (Dr. Alan Scott) to treat strabismus, or misaligned eyes, and eyelid spasms. Eye doctors not only have ample experience using Botox to treat ocular conditions, but they have an in-depth understanding of the eye area that aestheticians and nurse injectors do not.
Boston Eye Physicians and Surgeons offers Botox treatments for medical and cosmetic purposes so you can enjoy a younger, well-rested appearance and proper eyelid function.
What is Botox?
Botox is made with botulinum toxin type A, which blocks neuromuscular activity by paralyzing the muscles temporarily. Botox works by inhibiting the release of the neurotransmitter acetylcholine that tells the muscle to move. The injectable was FDA-approved in 1989 for strabismus and blepharospasm and gained notoriety for its cosmetic abilities in 2002 when it was approved for glabellar lines (vertical lines between the eyebrows). Botox is FDA-approved for 11 medical and cosmetic uses today. It's often used to elevate the brows, smoothen forehead lines and improve eye wrinkles.
How Does Botox Treat Lines and Wrinkles?
Unlike dermal fillers that add volume to the face to "fill in" lines, Botox goes to the source of the wrinkles. Botox is a paralytic agent that focuses on dynamic wrinkles that form after years of repetitive muscle movements or facial expressions, such as squinting and scowling. This injectable targets the muscle responsible for the lines and wrinkles to smoothen the skin over time. Results typically settle in after several days and last up to four months. Repeat treatments can lengthen your anti-aging results.
Botox works well for horizontal forehead lines, crow's feet, drooping brows and 11's between the brows.
Why Choose an Ophthalmologist for Your Botox Treatment?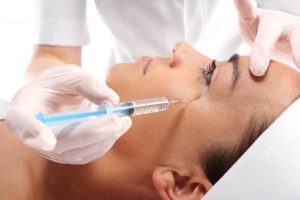 Eye doctors are an excellent outlet for Botox treatments because of their unique understanding of the eye area and muscular structure. Ophthalmologists were the first to use Botox when it was developed and continue to be an ideal source for the injectable.
Ophthalmologists use Botox for several eye conditions. For example, by injecting the substance into the eye muscles they can reduce excessive blinking and improve eye alignment. Due to their intricate knowledge of botulinum toxin, they also know how to expertly inject it into the forehead, brow, and outer-eye area to soften wrinkles.
No other medical professional understands the muscles in the eye and surrounding tissues better than an ophthalmologist because we work with eyes every day and perform complex procedures.
Ophthalmologists who are also oculoplastic surgeons, such as our Dr. Peter Rubin, are exceptionally skilled in reconstructive and cosmetic surgeries with advanced training in plastic surgery and cosmetic treatments.
Schedule Your Botox Treatment in Boston
Botox can help you achieve a youthful, well-rested appearance by smoothing dynamic lines and wrinkles. You need a medical professional who knows how to perform this injectable treatment properly, and an ophthalmologist is the perfect choice.
Contact Boston Eye Physicians and Surgeons to schedule your Botox consultation today.