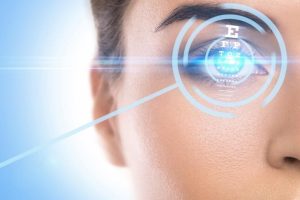 Prescription glasses and contact lenses can be inconvenient and prevent you from enjoying certain activities, especially if you've worn corrective lenses for years, even decades. LASIK eye surgery reduces or eliminates your dependence on glasses or contacts by correcting refractive errors. Nearsightedness, farsightedness and astigmatism are refractive errors caused by a misshapen cornea (transparent front portion of the eye) that fails to bend or refract light onto the retina. The retina, located at the back of the eye, is supposed to transmit signals to your brain to create images, but refractive error makes these images blurry. LASIK can often deliver 20/20 to 20/40 vision, giving you excellent eyesight.
Why Choose Boston Eye Physicians & Specialists?
Boston Eye Physicians and Surgeons has a highly experienced and skilled team of ophthalmologists. Our eye doctors hold esteemed faculty positions at Harvard Medical School and are recognized leaders in ophthalmic societies. We can help you determine if LASIK is the best refractive surgery option for you.
LASIK Candidates
The eyes need to reach visual maturity before LASIK is performed which is why you need to be at least 18 years old for LASIK eye surgery; most candidates are 21 or older. If you meet the following criteria, you are likely a good candidate for LASIK:
You have had stable vision for one to two years.
Your poor eyesight is caused by a refractive error such as myopia (nearsightedness), hyperopia (farsightedness) and/or astigmatism.
You have healthy eyes free from common eye diseases and dryness.
Your corneas are thick enough to accommodate the LASIK flap.
Your vision is within the parameters for LASIK. Extreme nearsightedness or farsightedness increases your risk of complications such as dry eyes, halos and difficulty seeing at night.
You understand and have realistic expectations for what LASIK can do for your eyesight.
Any medical conditions you have are well-managed and won't interfere with the LASIK procedure or recovery, including diabetes.
One type of refractive error, called presbyopia, concerns your eye's natural lens. As you get older, the lens inside your eye loses its flexibility and becomes rigid, making it challenging for the lens to adjust focus for near vision. LASIK can't treat presbyopia because it's not caused by an abnormally shaped cornea. Age-related loss of close vision happens to most adults and can be treated through refractive lens exchange, LASIK monovision techniques and other methods.
LASIK Procedure Details
LASIK is an outpatient surgery, but you will need a friend or family member to help you for at least the first day and drive you home after your procedure. Your eyes will be numbed with anesthetic eye drops and held in place using an eyelid holder and suction ring that dims or blackens your vision.
The LASIK laser creates a thin flap in your cornea that lifts and folds back to reveal more corneal tissue for vision correction. Our eye surgeon will guide the laser, which uses the measurements taken from your eye exam to reshape the curvature of your eye. Afterward, the flap is folded into its original position and the edges are smoothed. Your eye starts to naturally heal within a few minutes by re-attaching the flap, making LASIK recovery shorter than other refractive procedures such as PRK.
Your LASIK Consultation
One of our experienced eye doctors will check your ocular health during your LASIK consultation. We need to ensure you don't have eye diseases, such as glaucoma or cataracts, and make sure you don't have an undiagnosed eye injury or infection. We will check the size of your pupils and measure your refractive error to confirm your prescription.
Our ophthalmologists may check your tear film quality and tear production to check for dry eyes. Dry eyes and other eye concerns can complicate LASIK because you're more likely to experience worsening symptoms due to the tissue removal. We will discuss your lifestyle and career to understand your vision needs and measure and map the surface of your corneas for precise measurements to program the laser.
Contact Boston Eye Physicians and Surgeons to schedule your LASIK consultation in Boston today if you're tired of eyeglasses or contact lenses.